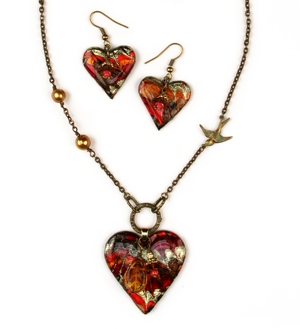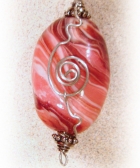 Back by popular demand! Friendly Plastic Designer Sticks were the artful 80's craze. With retro styles and beads calling the medium back, Friendly Plastic is enjoying a surge in popularity.
Lightweight, flexible, quick and easy to use Friendly Plastic Designer Sticks are 1 1/2" x 7" and 100% non toxic. They soften quickly in hot water, oven or with a heat gun for modeling. They are easy to manipulate using a variety of techniques and can be shaped, molded, stamped, cut, layered or rolled. The shimmering metallic foils can be used to create stunning jewelry designs, fashion accents, greeting card embellishments, and gifts.
Unique two dimensional designs can also be created by blending different colors together on a non-stick baking sheet and placing in a 130 degree oven.This is the ideal method for re-using leftover scraps of Friendly Plastic (see photo above).
Friendly Plastic Pellets are also extremely easy to use. Learn how to make tools! They soften in warm water and can be sculpted by hand or pressed into a mold (see photo above).They are completely reusable prior to decorating. Simply re-soften in warm water and start over. Decorate with acrylic or craft paints. Inventors and sculptors also use Friendly Plastic pellets to make replacement tools, parts, and prototypes.
See available colours here:
Art Plastic - Craft In Vogue